Mercedes-Benz Service A in Brooklyn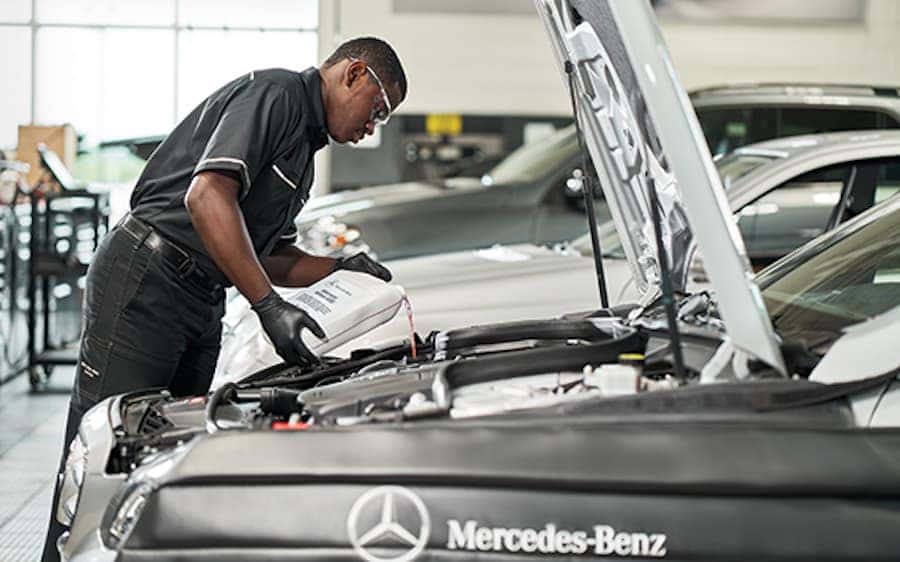 Routine maintenance is an important part of sustaining your Mercedes-Benz in its luxury condition. While the sophisticated design, high-quality materials, and innovative technology showcase just how special your Mercedes-Benz is, how it performs and its reliability add more value to your luxury sedan, coupe, or SUV.
With a Service A appointment, our certified technicians at our Mercedes-Benz of Brooklyn service center will provide you with all necessary routine services to keep your Mercedes-Benz at its peak performance. Learn more about Service A specials, our Mercedes-Benz Express Service to get you in and out, or other service offers we have for you.
What Does a Mercedes-Benz Service A Include?
Mercedes-Benz Service A is the service needed every 10,000 miles or 12-months, whichever comes first. This service may also depend on the specific Mercedes-Benz model or how often or far you travel. Service A includes the following car maintenance routines:
Synthetic Motor Oil Replacement
Oil Filter Replacement
All Fluid Level Checks & Corrections Are Dependent On factory-recommended Service Intervals For Your Vehicle's Year & Model
Tire Inflation Check & Correction
Brake Component Inspection
Reset Maintenance Counter
We can assure you we adhere to all required elements listed by model year and specific model as indicated on the corresponding service sheet for Mercedes-Benz Maintenance Systems in the USA.
Schedule Mercedes-Benz Service A Appointment in Brooklyn
When your Mercedes-Benz requires Service A, schedule an appointment with Mercedes-Benz of Brooklyn service center. Service A is a staple in maintaining your Mercedes-Benz, and our specially-trained technicians will provide you with a stress-free experience.
Be sure to take advantage of our service A and general service special to help you save on your next appointment. We also provide financing for service for a flexible payment option.
If you have any questions for our service team or any general dealership inquiries, please feel free to contact us. We look forward to hearing from you soon!
Browse Mercedes-Benz Service and Parts Specials
Full Service A / Service B Disclaimer:
*Service A / Service B is only for Model Years 2009 or newer. *Price advertised for Service A/Service B includes all factory-required components. Please refer to your maintenance booklet for the complete list of factory-required services and details on the specific intervals for your vehicle's year and model.