Mercedes-Benz Tire Rotation Service in Brooklyn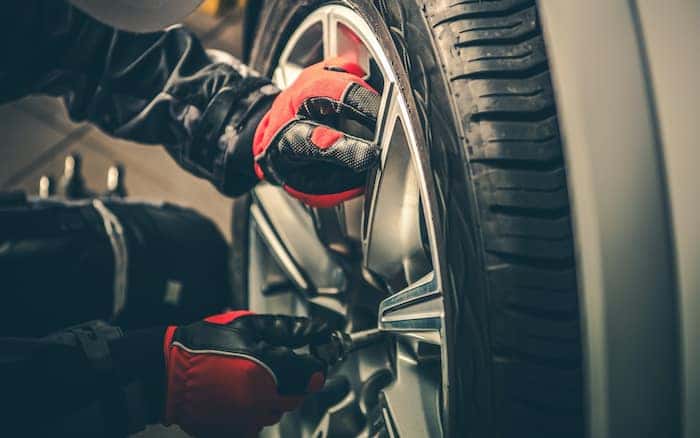 Routinely servicing the tires on your new Mercedes-Benz ensures your luxury vehicle performs at its peak condition. Here at our Mercedes-Benz Service Center in Brooklyn, NY, we offer a tire rotation service to maintain and improve your driving experience. Whether you schedule an appointment and drop it off or opt for our vehicle pick up and return service, we make sure to provide our drivers with a convenient service.
When it comes to keeping your Mercedes-Benz sedan, coupe, or SUV in premier condition, rotating your tires is an essential routine maintenance service to receive. Learn more about signs that indicate a need for this service and how frequently you should rotate the tires on your Mercedes-Benz vehicle.
Signs My Mercedes-Benz Needs a Tire Rotation
Over time your tires will wear down through usage, especially on the roads of Brooklyn, and the main purpose of a tire rotation is to make sure the tires on your vehicle wear evenly. A visual inspection will usually tell when your tires need to be rotated, but here are three other warning signs that indicate a need for service:
Uneven Tire Wear – Uneven tire wear, in this case, means front tires wear out faster than rear tires. The rotation will become insignificant when your tires wear out if not serviced as soon as possible.
Vehicle Vibration – If you feel heavy vibrations felt at 45 MPH or higher, you may need a tire rotation
Pressure Loss – If one tire loses air slowly but faster than the others, it may receive too much pressure. Inspection is needed as it could also mean a tire puncture.
It is important to note that these warning signs are common signs of wheel misalignment, imbalance tires, and overall wear and tear. Our Mercedes-Benz tire center will help determine the issue.
How Often Should I Rotate My Tires?
A good rule of thumb to follow when scheduling a tire rotation service is to receive one every 5,000 to 7,000 miles. For Mercedes-Benz with 4MATIC® All-Wheel-Drive, we recommend scheduling a tire rotation every 3,000 to 5,000 miles. While these are our recommendations, remember to always check your owner's manual for exact numbers.
Schedule Mercedes-Benz Tire Rotation Service in Brooklyn
To keep your Mercedes-Benz running at high-performance levels, schedule a tire rotation service with our Brooklyn Service Center. Having access to our certified and experienced technicians allows you to experience the full true meaning of luxury.
We also encourage you to browse through our available Mercedes-Benz service and parts specials to use to your benefit for your next scheduled appointment.
If you have any questions or would like more information about our routine maintenance services, please feel free to contact our team. We are more than happy to help you!